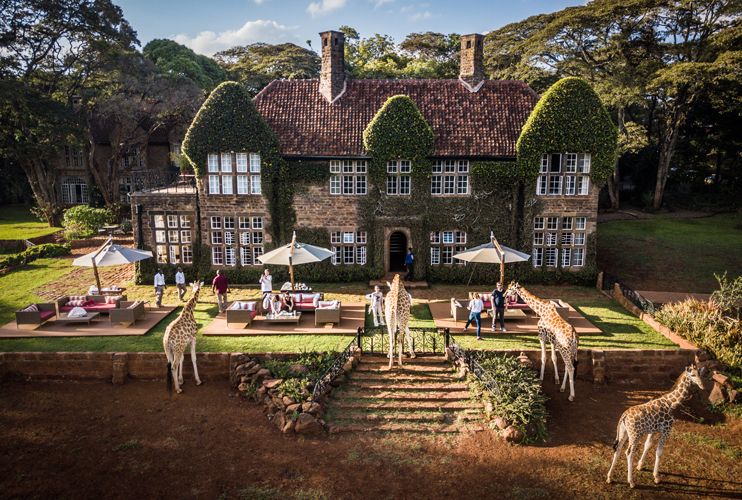 02/21/2020 by Susan Ventresca 0 Comments
Bucket List Breakfast
Giraffe Manor
History
Billing itself as the "ultimate bucket list breakfast", Giraffe Manor is a small hotel located in the suburbs of Nairobi.
This beautiful manor home was constructed in 1932 and originally sat on 150 acres of land running down to the Mbagathi River.  By the early 1970's the manor had fallen into disrepair and was purchased by Betty Leslie-Melville and her husband.  Shortly after their purchase, they were made aware that the last remaining habitat of the rare Rothschild giraffes in Kenya was threatened.  Already providing a home to three wild bull giraffes, the Leslie-Melvilles agreed to take possession of one of the Rothschilds, a 8-foot tall, 450 pound baby names Daisy.  Thus began a breeding program run in conjunction with other locations to reintroduce the Rothschild giraffe into the wild to expand the gene pool.
The Hotel
The manor was turned into a small, private hotel in 1983.  From the beginning, its appeal was ability of the guests to truly interact with these lovely creatures.  The giraffes often pop through the window of the main floor dining room to check out what the guests are having for breakfast.  They often nosily peek into the front door, and have no respect for the privacy of the guests located in the front of the second floor. 
In 2009, the Manor changed hands again, and is currently in the portfolio of The Safari Collection, a unique collection of luxury hotels located in Kenya's finest locations.  If you think you'd like to experience this breakfast with the giraffes, it is recommended that you plan a 2-night stay.  At 5,889ft above sea level, Nairobi is cool at night and warm in the day, with two rainy seasons March to May and mid-October to December. Situated close to the equator, seasonal differences are minimal, however in June, July and August, temperatures can be as low as 35˚F.  All guests enjoy full-board during their stay, which includes all meals and most drinks (house wines, spirits, beers and soft drinks, excluding champagne and specially imported wines and spirits). Complimentary chauffeured vehicles are available for sightseeing, however guests may need to share vehicles depending on demand and availability.  Obviously, "once-in-a-lifetime" doesn't come cheap.  You can expect to play at least $900 per person per night.  But reading the reviews and blogs of those who have traveled to the Giraffe Manor, it is apparent that they feel it was money well spent!  
Feed