Frequently Asked Questions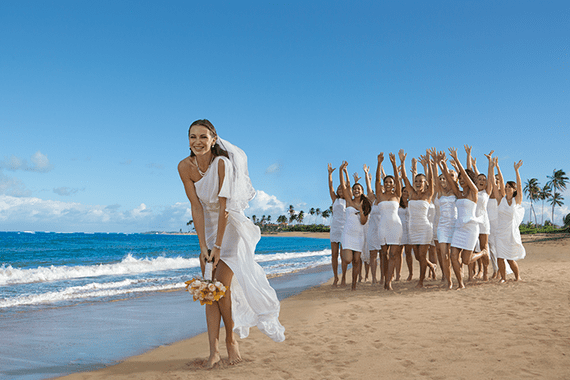 How far in advance to I need to speak with my Travel Advisor?

To get the most options for destination, date and flights, it is best to begin the planning process 18 months before your wedding date. You'll want to give your guests plenty of time to obtain or update their passports, and to request and secure vacation time.

Do I need to come to your office?

We're happy to accommodate whichever form of communication you prefer. If you'd like to come in for an initial consultation, we can show you brochures and can contact properties to check availability and rates. Likewise, we can have a chat by phone to get your preferences and do the research and get back to you via phone or email. We have handled large, complicated destination weddings and never met the bride in person! We're happy to work with you however you feel most comfortable.

What destinations do you recommend?

There are many popular locations throughout the world that would provide a stunning backdrop for your wedding. It's important to keep in mind that although your family and friends are excited to attend your wedding, there's no doubt that choosing a far-away destination is asking your guests to commit more money and time than for a traditional wedding. You'll want to provide them a vacation that's fun for everyone! Because your wedding guests may include multiple generations, having your wedding at an all-inclusive resort provides the most options for all your guests to contain costs while providing many entertainment options for all ages. Selecting an all-inclusive in Jamaica. Riviera Maya, and Punta Cana will provide a beautiful romantic setting for you and a fun vacation spot for your guests accessible via a less than 4 hour non-stop flight.

What happens at my first visit with you?

The most important first step is reserving your preferred date at your preferred location. When you come in to meet with one of our Destination Wedding Travel Consultants, we will talk about when you want to get married, how large you expect your wedding party and guest list to be, and your own personal style choices. Our specialist will show you properties that she feels will suit your needs and help you narrow down your choices. Once you have a property selected, and the date is booked, you can relax a bit and have some fun personalizing the wedding and stay for both you and your guests.

How much do the services of a travel advisor cost?

There is no charge to you for working with a travel advisor on your destination wedding.

Who do I work with to plan the actual ceremony?

Once you're booked, our specialist will connect you with the wedding coordinator on the property. Together, you will work out the specifics of your ceremony, including type of service, flowers, decorations, locations, photography, etc.

Can I have a religious ceremony or civil?

The choice is yours. You will work with your wedding coordinator on site to select the location for the ceremony and your choice of officiant. We have a portfolio of properties which do have a chapel on site that qualifies if your religion dictates that you marry in a church. Every locale is different regarding government paperwork, blood tests, etc. Many of our brides opt to marry here in the States by a justice of the peace to avoid paperwork snafus. Then, in front of their family and friends, the go through a renewal of vows, which is virtually indistinguishable from the actual marriage ceremony.


Should I invite kids?

Inviting children to your destination wedding is a personal choice. Because a destination wedding requires multiple nights away from home, you may find that some guests will be more willing to accept the invitation if they can bring their children along. Guests will often look at this as an opportunity for a family vacation. One of the benefits of an all-inclusive for your wedding is the wide range of activities available for all your guests. Remember, you can opt to exclude children from the ceremony itself, and should you decide to do so, it is nice to make arrangements for childcare.

How are my guests' travel arrangements handled?

Once you have selected your destination and booked your wedding date, Ventresca Travel can assist you in designing a flyer and communicating via mail or email to your wedding guests. Generally, your guests will not be able to book until 8 – 9 months prior to your wedding. When they're ready to book, our consultant will work with them to select the flights and accommodations that most suit their needs.

Are there any rewards for the bride for bringing a large group to a resort?

This varies from resort to resort. Based on the number of rooms that are booked for your wedding, the resort may opt to offer room discounts to your guests. Or they may give cash back to you at the end of your stay. Most properties offer complimentary wedding packages that can include the venue, officiant, flowers, and cake. The longer you stay and the more rooms your guests book, the more amenities you will receive for free.

How do I handle my dress?

Airlines recommend that you carry your dress on board. Checking it or shipping it ahead of time could result in disaster. Some brides even purchase an additional seat for their dress! Most resorts will have a steaming service to get your dress in perfect shape by the big day. If you want to think outside the box, there is a service in Jamaica that will order the dress for you. You have the option of buying it or renting it. Either way, the dress will be delivered to your room and they guarantee alterations within 48 hours.